TECES in the role of regional RIS3 observatory – the Smart_watch INTERREG CE participation
19. junij 2017, Maribor, Slovenia, source TECES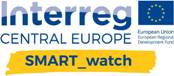 TECES informs partners and stakeholders that we were successful in application of project proposal named
SMART_watch
"Regional branch of intelligent markets in Central Europe monitoring technology trends and market Developments in the area of smart specializations", which was submitted to the second call of the INTERREG Central Europe Programme.
SMART_watch project addresses Priority 1: Strengthening competitiveness, research and innovation program with the specific aim of improving sustainable connections between the actors of innovation systems for enhancing regional innovation capacity in Central Europe.
The project includes
7 regions
(SI-AT-DE-ITA-PL-CZ-HUN) which show lacks in supervision and monitoring of the implementing levels of Smart Specialization Strategies. What becomes extremely critical when the European Commission raises demands for a mid-term evaluation of smart specialization strategies and its subsequent corrections in individual regions in accordance with the development orientation of the EU. At EU level there is currently no uniform methodology for monitoring individual smart specialization strategies and there is no uniform tools for comparative analysis across countries and regions.
Members, partners and stakeholders of TECES will be informed about the project activities, where they will also be invited to actively participate as members of the TECES innovation ecosystem.
For more information, contact
SmartWatch@teces.si
Partners:
LP:
Upper Silesian Agency for Entrepreneurship and Development Ltd.
|
P02:
Lubelskie Voivodeship - Department of Economy and International Cooperation
|
P03:
INNOVA Észak-Alföld Regional Development and Innovation Agency Nonprofit Ltd
. |
P04:
Pannon Novum West-Transdanubian Regional Innovation Nonprofit Ltd
. |
P05:
ATI erc gGmbH education, research and furtherance of cooperations
|
P06:
University of Applied Sciences: Technology, Business and Design
|
P07:
Confindustria Veneto SIAV S.p.A
. |
P08:
Langhe Monferrato and Roero Development Agency
|
P09:
Jasa Association
|
P10:
TECES
|
P11:
FH JOANNEUM - University for applied sciences
|
P12:
Regional Development Agency of the Pilsen Region
|
Related news

25.01.2017